Voice of Tibet: Lodi Gyari's Memoir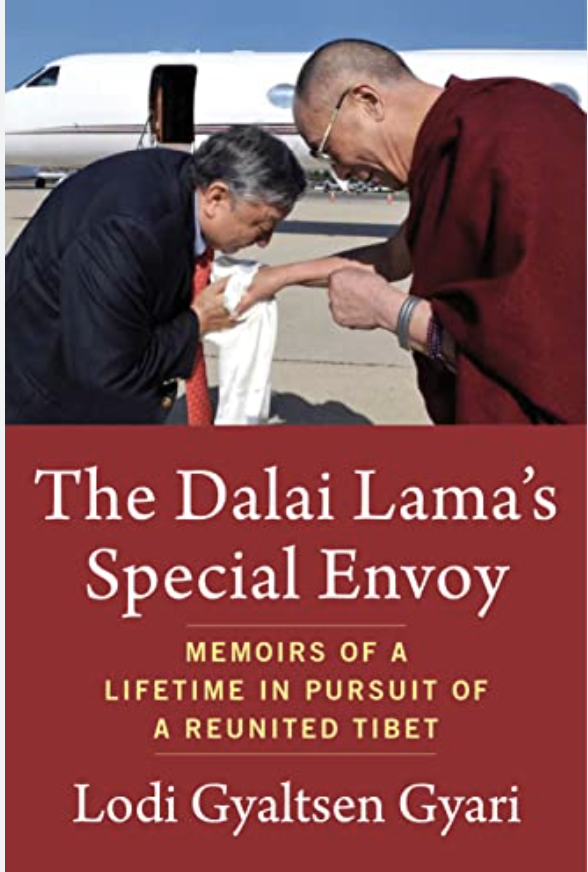 The Dalai Lama's Special Envoy: Memoirs of a Lifetime in Pursuit of a Reunited Tibet
Review by Matteo Pistono
Buddhadharma The Practitioner's Guide Winter 2022

THE DALAI LAMA fled Tibet sixty-three years ago, after China's invasion of his country. He's been trying to return ever since. During that more than half a century of exile, the Dalai Lama entrusted one individual to speak officially to the People's Republic of China. The Dalai Lama's Special Envoy: Memoirs of a Lifetime in Pursuit of a Reunited Tibet is a newly published book by that individual, Lodi Gyaltsen Gyari.
I first met Gyari in the late 1990s in Washington, D.C., when I collaborated with the Smithsonian Institution on Tibetan cultural programs. Later, when I lived in Kathmandu and traveled frequently to Tibet to document human rights abuses for the International Campaign for Tibet, I was in close contact with him. While we discussed political matters in our frequent meetings, he was most concerned about the state of Buddhist practice in his homeland, inquiring about little-known temples, asking if an aging hermit was still practicing there. Or he would ask if the collected writings of a nineteenth-century lama, which he had directed to be published, were being distributed to small monasteries in a remote corner of eastern Tibet. He sent messages and monetary offerings with me for yogis in far-flung hermitages, monks in larger monasteries, and remote nunneries. I always returned with handwritten or videotaped messages for him, including one from a senior rinpoche who identified where Gyari's father had been reborn. While Gyari continually strategized and consolidated political support for Tibet, I saw how committed he was in sustaining esoteric endeavors among Buddhist practitioners in Tibet.
Gyari was an unlikely character to enter the global political stage. Born in a nomad's tent in eastern Tibet in 1949, he was recognized, just as the Chinese were establishing their control in eastern Tibet, as the reincarnation of the scholar–yogi Jamphel Dewa Nyima from Lumorab Monastery. While undertaking his childhood monastic studies, Gyari heard accounts of his family members engaging in guerilla warfare against the People's Liberation Army (PLA) in the mountainside—about how his chieftain father had been imprisoned by the Chinese, and how his mother had become the most prominent Tibetan female resistance leader, leading battalions on horseback against the invading Chinese army. To this day, patriotic songs in Tibet still invoke her name.

By 1957, the PLA took control of eastern Tibet, and Gyari's extended family fled their home on foot and horseback for Lhasa. Gyari witnessed hundreds in his group, including childhood friends, massacred when ambushed by the Chinese. The young Gyari was asked to guide the group by divination during perilous moments on the two-month escape. While the young reincarnate lama used Buddhist mantras to encircle his family with protection, his mother carried hand grenades in the fold of her robes. Eventually, they made it over the Himalayas into exile in India.
Arriving in the refugee community in Darjeeling, Gyari eventually left the monkhood and became part of a group of young Tibetans selected for English language training, a preparatory step to work with the US Central Intelligence Agency-funded Tibetan guerilla resistance. His training led him not to the frontline of the armed struggle against China, but to become the editor of Tibetan and English language journals. During this period, Gyari married Dawa Chokyi, and they raised six children.
Gyari's public service in the 1970s spanned from activist to Tibetan parliamentarian. He served in the most senior position in parliament and became widely recognized as one of the most effective political leaders of his generation. Beginning in the mid 1980s, he led the improbable quest to advance the Tibetan cause throughout the corridors of power around the world. In the US, as both the Dalai Lama's Special Envoy and head of the International Campaign for Tibet in Washington, D. C., took the Tibet issue from a side conversation in D.C. coffee shop meetings to the Department of State and the White House. Gyari accompanied the Dalai Lama at every meeting with US Presidents Carter, both Bushes, Clinton, and Obama.
The Dalai Lama's Special Envoy traces the arc of how the Tibet issue became a global social justice movement. When Gyari assisted the Dalai Lama on his first visit to the West in 1973, as they visited eleven countries, he realized that the Tibetan leader had greater name recognition in Europe and the West than did his own country, Tibet. Gyari's pragmatism foresaw the enormous potential of the Dalai Lama that went beyond the Tibetan struggle and Buddhism. Gyari led a small group of Tibetans and Western supporters—including a handful of Western dharma groups—who first actively pushed for the Dalai Lama to meet with world leaders, worked to raise his profile as an international moral leader, and then developed a multidecade campaign to "internationalize" the issue of Tibet around the world. The worldwide stature of the Dalai Lama and his nonviolent struggle culminated in the Nobel Peace Prize being awarded to him in 1989.
But it was through his central role in the Sino-Tibetan negotiations, which Gyari meticulously details in The Dalai Lama's Special Envoy, that he left an indelible mark on Tibetan history. The Dalai Lama appointed Gyari on May 16, 1998, as his chief negotiator with the People's Republic of China. Gyari carried the mantle for the Dalai Lama's Middle Way Approach during nine rounds of negotiations with Beijing between 2002 and 2012.
Gyari told me that his commitment to the Dalai Lama's vision and to his Buddhist practice was one and the same. For Gyari, like his leader, the Dalai Lama, politics and spirituality emerge from the bodhisattva commitment to benefit others. There is no separation between social activism and the dharma, so long as the commitment to benefit all beings never wavers. Gyari's skillful means manifested as a persuasiveness and determination born from authenticity, which you can hear in his distinctive voice on every page of The Dalai Lama's Special Envoy.
I was always struck by how seamlessly Gyari wove his Buddhist practice into his politics. Not only did he maintain his daily meditation practice diligently, but he literally practiced Vajrayana during his political encounters. Once, during the last rounds of negotiations with the Chinese, the Nechung Oracle had recommended Gyari recite a particular Vajrayana practice, Removing Flaws in Interdependence, prior to and during the meeting with the Chinese officials. Gyari did not have time to memorize the mantras and prayers so he had me FedEx him an iPod loaded with recordings he could listen to during the car ride and in between negotiations in Beijing and Hunan.
While this book illuminates Gyari's diplomatic role, as well as how the Tibet issue became a global phenomenon, Gyari goes to great lengths in the book to discuss the need for Tibetans to overcome divisions within their own exile community. This may surprise some readers, who assume that Tibetans have always been a united front behind the Dalai Lama.
The need for Tibetans to release their divisive collective past, including intra-Buddhist sectarianism, and foster unity was recognized by leaders in the exile community as soon as they arrived in India in the late 1950s. Buddhist lamas, regional and tribal heads, clan superiors, and aristocrats—almost all of whom had arrived destitute as refugees—gathered in Bodhgaya to meet with the twenty-six-year-old Dalai Lama and declare their political loyalty to him. This extraordinary historic event unified leaders of all Tibetan regions behind a single leader—a first in the history of Tibet. Pledging allegiance to a reunited Tibet with the Dalai Lama as leader, according to Gyari, defined what it meant to be Tibetan. What we now consider "Tibet" was born politically at this time, though scholars and historians, Gyari laments in The Dalai Lama's Special Envoy, have never written much about this historic moment.
Gyari asserts that without understanding this oath of allegiance, one cannot fully grasp the profundity of the Dalai Lama's Middle Way Approach, which, in effect, gave up the struggle for an independent Tibet in favor of genuine autonomy for all Tibetans living in a unified Tibet within the framework of the People's Republic of China.
At times, the narrative turns deeply personal. One can feel Gyari's anguish when he writes about how the Chinese executed his grandmother by firing squad for her resistance to their invasion. Or when, during the official negotiations with Chinese officials in 2004, Gyari returned to his home monastery, still in ruins, after forty-six years in exile, a moment he describes as "more than anything, heartbreaking."
The most personal aspect of this book, however, is the glimpse into what it is like to be a close disciple of the Dalai Lama. Gyari acknowledged that being the political representative of the Dalai Lama may provide situations where his role as a student of the Tibetan leader would be tested. "As a disciple, I have been able to maintain my pure samaya [heart connection] with His Holiness," Gyari writes. "Several years back, I gathered all my courage to inform him that if there were ever a situation in the future when I had to make a choice between him in his capacity as my leader or as my teacher, without any hesitation, I would choose the latter." Gyari's devotion to the Dalai Lama and the dharma was his guiding light while navigating dark political episodes—externally with the Chinese, and internally with the exile community.
Early in the book, Gyari writes how, in 2010, he became a "victim of a malicious and well-orchestrated attempt at character assassination." The rumors did not stem from China, he states, but rather from well-placed Tibetans in exile. A close reading of the book evinces the involvement of politicians who eventually rose to the senior-most positions in the Tibetan exile government. Instead of standing on the shoulders of Gyari, the group who pressed the defamation against him wanted to tear him down. They believed they could maintain the fruitful relationships Gyari had cultivated for forty years in the West and in China. This did not transpire. Following Gyari's exit, international political and financial support for Tibet has waned. And without him as the principal negotiator with the Chinese, no further talks have occurred.
Gyari was cleared of any wrongdoing after exhaustive audits in 2014, by which time he had retired and moved to Thailand to be closer to his family and write this memoir. Gyari's writing about the defamation in The Dalai Lama's Special Envoy is the first time he addresses the incident publicly.
Though Gyari was exonerated, the rumors that were levied against him had reached the ears of the Dalai Lama and caused an uncharacteristic distance between the Tibetan teacher and his disciple. This was extremely painful for Gyari. He remained stoic for four years. He finally requested a meeting with the Dalai Lama to clear up any misunderstanding. A private audience was scheduled at the Dalai Lama's residence in India, but the meeting never took place. When Gyari went for a medical check in San Francisco before heading to India, his health turned for the worse, and he died during treatment for liver cancer.
In Gyari's final hours of consciousness, the Dalai Lama telephoned to assure him that their spiritual connection was pure. The significance of this call for Gyari cannot be overstated. Gyari had told me on numerous occasions that on his deathbed he wanted to hear the Dalai Lama recite Entering the City of Omniscience, a prayer composed by Jigme Lingpa. One verse from that prayer had special significance for Gyari:
Whatever my situation or circumstance, may I never feel the slightest wish to follow worldly ways, which run contrary to the Dharma!
Even if, whilst under the sway of karma and habitual patterns, a mistaken thought occurs to me, may it never be successful!
དུས་དང་རྣམ་པ་ཐམས་ཅད་དུ་དམ་པའི་ཆོས་མ་ཡིན་པའི་འཇིག་རྟེན་མཐུན་འཇུག་གི་བསམ་པ་སྐད་ཅིག་མ་ཙམ་ཡང་སེམས་ལ་མི་སྐྱེ་བར་ཤོག་ཅིག
གལ་ཏེ་ལས་དང་བག་ཆགས་དབང་བཙན་པར་གྱུར་ནས་ཕྱིན་ཅི་ལོག་གི་བློ་སྐྱེས་ནའང་དེ་ཉིད་མི་འགྲུབ་པར་ཤོག་ཅིག
Gyari died on October 29, 2018, at the age of sixty-nine.
Gyari's insights culminate in recommendations to future Tibetan and Chinese leaders. He warns that time is not on the side of the Chinese government. For a durable solution to China's Tibet problem—in essence, a complete lack of legitimacy for their rule—the Dalai Lama must be an active participant in crafting the solution.
Without the Tibetan leader's blessing, legitimacy will forever evade China. As the Dalai Lama is now eighty-seven years old, time is of the essence.
At nearly eight hundred pages, The Dalai Lama's Special Envoy is astonishing in its thoroughness and geopolitical sweep, offering an exhaustive, firsthand account of the Tibetan political engagement with the Chinese. Historians and scholars of Tibet and China, and socially engaged Buddhists, will find the greatest value in the book. As the Dalai Lama's chief political strategist and diplomat-at-large, Gyari provides an unprecedented glimpse into key moments and political and Buddhist personalities in an era of dynamic diplomacy, much of which was conducted in secrecy. Gyari's complex role as a leading advocate, diplomat, strategist, negotiator, reincarnate lama, and bridge-builder for the Tibetan people resulted in unprecedented awareness and support for the Dalai Lama and Tibet worldwide.
And, as a committed Vajrayana practitioner, Gyari's life paints a portrait of a socially engaged Buddhist. His warrior heritage and Buddhist training propelled him to work ceaselessly against seemingly insurmountable internal and external obstacles. He infused the Tibet movement with a global outlook anchored with moral gravitas. In the span of a few decades, from what was once a disoriented refugee cause struggling to find its political way in India, Tibet emerged as an iconic movement for social justice on a global scale.
----
MATTEO PISTONO is a meditation and breathwork guide and author of multiple books, including In the Shadow of the Buddha and Roar: Sulak Sivaraksa and the Path of Socially Engaged Buddhism. www.matteopistono.com